About Us

Springs are of major importance and are used in almost every machine. One such mechanism/device in which springs play a major role by allowing motion between vehicle and their wheels, is automobile. So, to bring forth a wide variety of products we,
All India Spring Engineering Co. Pvt. Ltd.
came into existence in the year
1939
. We are a highly reputed and illustrious
Manufacturer
and
Exporter
of
Compression Spring/Buffer Spring, Disc Spring, Reeling Drum Spring / Spiral Spring, Leaf Spring, Volute Spring, Bibby Coupling, all types of Industrial Springs and Spring assemblies,
along with a host of various other industrial springs. From two wheelers to four wheelers, our offered springs are used in all and are available in various sizes. Excellent resistance to corrosion, and durability are two main factors for which our offered gamut is highly appreciated.
We have made an advance production unit installed with modern mechanisms to aid our professionals develop a range of springs matchless in quality. Each of the lot produced at our production house is checked rigorously by our quality inspection specialists, so as to provide customers a defect-less range that functions properly and without any hassle.
Over 7 Decades Of Experience
Buyers often deal with those companies who have years of experience in the domain along with industry knowledge. There is no denying in this fact because people always look for surety and in every business experience is one such factor that gives surety to the buyers of quality offerings. All India Spring Engineering Co. Pvt. Ltd. is said to be the pioneer in developing Belle Ville Washer Disc Spring, Tension Torsion Vibrator Spring, and various other springs. We have more than 7 decades of experience in this domain and needless to say this experience garnered us a huge and satisfied customer base.
Main Customers / Industries where All India Spring is supplying for last 78 years

Heavy Engineering Industries
Elevator Industries
Vibrating Screen Manufacturers
Construction Equipments Manufacturer
Material Handling Equipments Manufacturer
Hangers and Pipe Supports Manufacturer
Thermal Power Sector
Valve Manufacturer
Indian Railways
Wagon Manufacturers
Shipping Industries
Main Purpose: Shock Absorber / Safety Item
Reasons To Choose Us

Team- We are blessed with a talented, proactive, and experienced professionals, who using their skill and experience develop a gamut of Springs that are matchless in quality and functionality.
Quality- Good quality Steel and other metal alloys are used by us to make a quality gamut of springs.
Customer Satisfaction- We deal transparently with our customers and offer them prompt delivery service.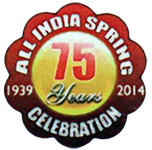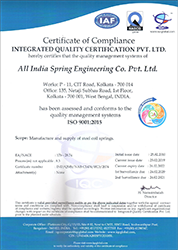 Read More